Wayne Yeager was born on August 25, 1931 and started modeling in 1940 with influence from two brothers who lived next door to him. He built rubber band-stick type up through high school and then dropped out with a stint in the Marines, discharge, job, buying a car, girls, etc.
Wayne got back into modeling in the late 60's when he built a Heathkit radio and learned to fly it which was mostly crashing. He flew some sport and Scale then saw a pylon race and knew immediately what he wanted to fly. He raced his sport planes locally and then got interested in Quarter Midget so he built a "Spirit of St.Louis" from plans in one of the model magazines. Wayne holds AMA member number 862.
He competed through the 70's with many different type of QM models with some success. He won the NATS once, won the Toledo "Silver Cup" plus won the "Eastern States Championships" in Harrisburg twice. In the mid-80's he gravitated towards the administrative side of racing when he volunteered to run Pylon at the AMA NATS and has been involved with that side of racing ever since. He has also been the CD for the "Silver Cup" and on three occasions, the Event Director for the U.S. F3D Team Selection race.
Wayne has served on the AMA Pylon Contest Board, and has been the F3D Team Selection Chairman since 1995 and the AMA Nationals R/C Director since 1985. He became an AMA contest coordinator in the early 70's and still does that today.
Some of Wayne's many accomplishments include:
1971 - District 7 R/C Contest Coordinator
1979 - 1st Place, Quarter Midget R/C Pylon, AMA NATS, Lincoln, NE
1979 - NMPRA National Quarter Midget Points Champion
1985 - Carl & Beth Goldberg "Vital People" Award
1985 - R/C Pylon Event Direcor, AMA NATS, Chicopee, MA, Westover Airforce Base
1985 - Event Director, F3D Championships, Chicopee, MA
1986 - R/C Pylon Event Director, AMA NATS, Lake Charles, LA
1987 - R/C Pylon Event Director, AMA NATS, Lincoln, NE
1988 - R/C Pylon Event Director, AMA NATS, Tidewater-Virginia Beach, VA
1988 Through 1996 - AMA R/C Pylon Contest Board Chairman
1989 - Event Director, F3D World Championships, Tidewater-Virginia Beach, VA
1990 - R/C Pylon Event Director, AMA NATS, Lawrenceville, IL - Vincennes, IN
1991 - R/C Pylon Event Director, AMA NATS, Lawrenceville, IL - Vincennes, IN
1991 - F3D World Championships USA Team Manager, Wangarrata, Australia
1992 - R/C Pylon Event Direcor, AMA NATS, Chicopee, MA, Westover Airforce Base
1993 - R/C Pylon Event Director, AMA NATS, Lawrenceville, IL - Vincennes, IN
1993 - F3D World Championships USA Team Manager, Notsch, Austria
1994 - R/C Pylon Event Director, AMA NATS, Lubbock, TX
1995 - R/C Pylon Event Director, AMA NATS, Lawrenceville, IL - Vincennes, IN
1995 - Event Director, F3D World Championships, Muncie, IN
1995 To Present - F3D Team Selection Committee Chairman
1996 - R/C Director, AMA NATS, Muncie, IN
1997 - F3D World Championships USA Team Manager, Sumperk, Czech Republic
1998 - AMA "Pioneer" Award
1998 - AMA/NAA "Fellow" Award
1999 - AMA Hall Of Fame Induction
2003 - AMA Distinguished Service Award
2007 - Event Director, F3D World Championships, Muncie, IN
2013 - NMPRA Hall Of Fame Induction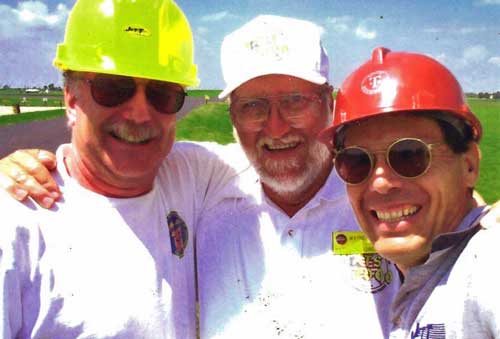 John Shannon, Wayne Yeager & Dub Jett At Muncie