Jerry Small has been actively flying pylon for more than 35 years. Jerry is president of Small Creations, Inc. He is a leading manufacturer of three dimensional Advertising Billboards. His work is well known throughout the USA.

Some of his achievements include:
1. Designed and built arguably the first fully composite R/C pylon racer. (Early 80's, Shoestring)

2. Designed and built three medal winning F3D racers. (Midget Mustang and Kazi-Killer)

3. Designed Two Nationals and NMPRA Championship winning QM-40 Racers. (Sidewinder and Two-Sweet)

4. Multiple innovations, including the method for removable tails. Also, the exhaust mounted remote needle valve, the plastic tube vacuum fueling syringe, and many techniques for composite molding. Jerry has been free with his ideas and techniques, and has been copied worldwide.

5. Jerry has been instrumental and tireless in his efforts to promote EF-1. His designs are innovative, attractive, good flying and fast. He also has helped others design competing models, often not asking, nor receiving credit.
The following is a list of the airplanes that Jerry Small has either Designed (which is the majority) or Co-Designed, 58 models in all.

Profile Models (Indoor):
Super Solution
Travelair Mystery Ship
Gee Bee
Crosby CR4
Depron Vacuformed Models (Indoor):
Rare Bear (Mass produced by Hobby Lobby)
Gee Bee
AT6
Ducted Fan Models:
Mig 15
F-86 Sabre
F4 Cougar
BD-5
A4 Skyhawk
Sanders Roe Sea Jet
Messerschmitt Fantasy Jet
1/2A Pylon Racers:
Shoestring
Rare Bear
QM15 Pylon Racers:
P-63 Aircobra
LR-1A
Keith Ryder Yellow Jacket
Formula 1 Pylon Racers:
Pitts Pellet
Tom Cat
Miss Dallas
Sweet Pea
All Composite Shoestring
Kazi Killer (GR-7)
Estralita
Midget Mustang
FAI Pylon Racers:
Midget Mustang
Kazi Killer (Dub Jett won the World Championships with this model and it is currently in the AMA museum.
QM40 Pylon Racers:
Side Winder (TRC)
Miss Reno
Little Mike
Too Sweet (Miss Ashley)
Sweet 1 (Miss Ashley)
Shark
Miss DARA
Tsunami
Sweet Pea
Wild Turkey
Sweet Vee (Sweet Pea)
Proud Bird
Zepher
September Fate
EF-1 Pylon Racers:
Sumthin Else
Little Toni
Midget Mustang
Rivets
Proud Bird
TomCat
Pogo (ARF model was produced by Horizon Hobbies)
Ole Tiger
Ole Tiger Modified
Shoestring (ARF model was produced by Horizon Hobbies)
Outrageous (ARF model was produced by Airborne Models)
Scarlet Screamer (ARF model was produced by Airborne Models)
Miss Dara (ARF model was produced by Nitro Planes)
Shark
Estralita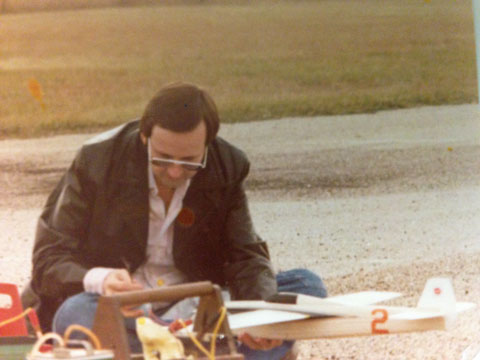 Jerry Getting Ready For Another Heat