Jim Shinohara came on the scene in 1972, helping three teenagers race Formula 1. Mike Atzei, Keith Davidson and Steve Sica were the first to receive Jim's generosity, and there would be many more who would receive his kindness during the following years.
Beginning in about 1977, Jim started building F1 airplanes for nearly anyone who needed one, and normally the cost was to provide him with a kit and an engine mount, he threw in the labor for free. From that time until just prior to his death in 1997, Jim built close to 600 F1 airplanes! I can recall him building as many as 16 airplanes at once, but after that he said that 6 or 8 at a time was the right number. He was a workhorse, and really loved what he was doing. He was always thinking of ways to make the airplanes better and faster. Many of the ideas and techniques he invented or perfected are still in use in today's racing airplanes.
Without his presence, the sport of Formula 1 racing never would have attained the participation and level of competition that it did, and for that he certainly deserves to be nominated to the NMPRA Hall of Fame.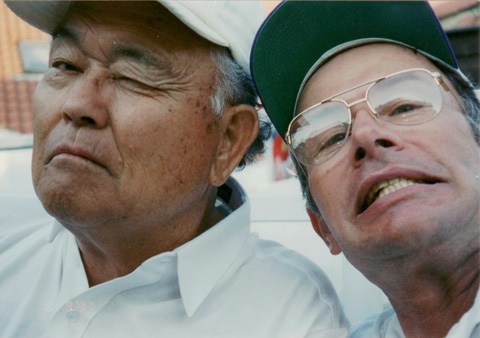 Jim & Dave Selfie