Dave Shadel was born in 1948 in Long Beach, CA. He started flying control line models in 1958 and competed in Combat, Rat Race from 1962-66. He was part of the first team to break the 5 min 30 second barrier in Rat and competed in his first NATS in 1963.
Dave began flying R/C while stationed in Germany in 1970. He flew R/C sailplanes from 1970-76 an started racing F1 in 1976 while working at Kraft Systems. He won NMPRA National points championship in 1979 the first of nine times.
In 1982 Dave became the first pilot to win the F1 NATS, NMPRA F1 National Points and NMPRA F1 Championship Race in the same season. In 1986 Dave won every F1 race entered and flew 95 heats without losing, then crashed the airplane that he had flown all year on landing after winning the NMPRA F1 Championship race. He said, "I hated losing that prop!".
Dave was a member of 8 FAI F3D teams from 1985 to 1999. He placed dead last at the '85 WC after an astounding run of really bad luck! He won the World Championship in 1987, 1989, and 1995. He was second in 1997 and 1999 and third in 1991 and 1993. His most memorable moments were winning the 1987 World Championship by 8 tenths of a second over Brian Richmond and coming from behind to win in 1989 and 1995.
Dave's only worst moment was losing his friend, mentor and caller Jim Shinohara at the 1997 World Championships.
Dave said, "Had lots of fun, met lots of good people, and not many bad. Participated in fireworks wars, food fights, special meals and numerous things worthy of a trip to jail, but I wouldn't have been the only one!"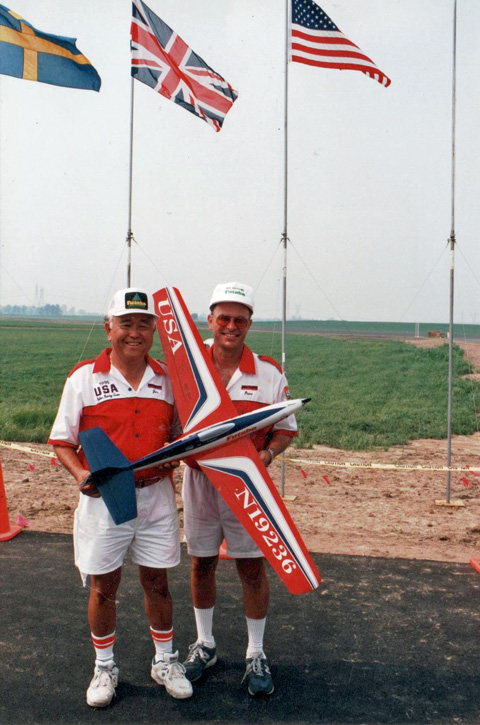 Jim & Dave At The World Championships