Pete Reed left us during a practice session the fall of 2009. Pete's legacy and mark on RC Pylon lives on and he will be sorely missed by his friends and racing family.
Pete was a private person who loved his wife and family and lived simply by the shores of Gilmore Pond in New Hampshire. He invited everyone he knew to stay for a time at his guesthouse. Many did and enjoyed the quiet time of the lake, the beautiful scenery, and the fine fishing.
Peter had a dry sense of humor only equaled to that of his wife Tinka. Remember the story of Peter Pan. Well, in the Reed family we have husband Peter, wife Tinka (her real name), daughter Wendy, son Michael, son Barry, and dogs, Dusty, Tiger Lilly, and Nibs, and cats Noodles and Shadow, all names from the book.
Every morning when the water temp was above 58 degrees at 5:00 AM, he would swim in the pond and then have breakfast. Every evening about 6:00 PM he closed his shop and went into the house for a rest in his favorite chair and for a glass of wine and a bag of peanuts, which he shared with his dog Nibs.
To say he loved modeling is an understatement. He also loved a gritty problem and would expound at length about how it was all solved and in particular if he did it without spending any money. He was frugal to a fault, but loved to give to his family and never refused help to anyone who asked, and even to some who did not ask.
Pete ate about the same meals day after day at home to keep his trim figure. About the only time he wavered from his two eggs, toast, two strips of bacon, and coffee (by the way it had to be with caffeine - decaffeinated coffee was not coffee, but a "hot drink") was when we were off racing. Then a fine meal at Portofino's during the Phoenix races was the standard. But do not have ice cream there as it costs too much.
Pete loved to ski, and I had the privilege to ski with him occasionally in NH or Vermont and one winter with him and his sons and one of his grand sons at Park City, Utah when he was a young 75. He also loved to fish, and we did that as often as we could on my boat out on Narragansett Bay. We always had trouble when it was good weather; do we fish or fly. Flying usually won out, but there were many fishing days as well. Once in a while we flew at the field, and then he would continue on down to my house, stay the night, and then fish the next day.
He built planes for many and accepted engines or paint jobs for barter. He built lightweight full-sized canoes and restored a very old family canoe. His modeling career spanned many decades. At one point Peter wrote his modeling autobiography, which is shown elsewhere in the newsletter.
In recent years, Pete would miss a race now and then. He said that Tinka did whatever he wanted for the first 30 years of marriage (they were married for 55 years) and that it was now her turn. So it was off to Belize for an Elderhostel to learn about the indigenous species of birds, then to the Peruvian Amazon, or the Galapagos islands where he wore blue swim fins and mastered the mating ritual of the Blue Footed Booby. He loved it and always spoke with enthusiasm about these trips and never regretted missing a race to make Tinka the most important part of his life.
Pete beat the rare and mostly fatal disease Amyloidosis, he came to me with the concern that his competing days were numbered. He was concerned about safety and made me promise to tell him straight out when it was time to quit. We had a perfect pilot-caller relationship, and I am very happy that at least I did not have to make that final decision. He got to fly to the end with a prop in one hand and a prop wrench in the other.
Good night, Pete, rest in peace. We miss you, Pete. I love you, Peter.
Published in the December 2009 High Performance Newsletter
Submitted by: David Doyle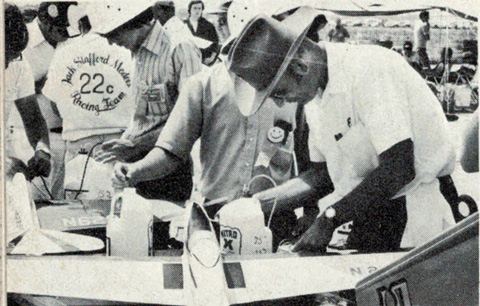 Pete Reed Fueling His FAI Ship At 1972 NATS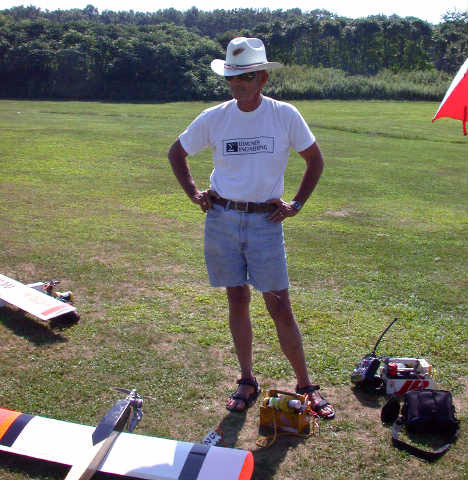 Pete Reed At A NEPRO Race