Terry Prather was always interested in models as a youngster. He always had plastic model airplanes hanging from his bedroom ceiling. He started flying control-line using the Cox plastic trainers and developed his control-line skills at the local Jr. High School that had several control-line circles running on the weekends. He eventually discovered AMA sponsored contests. A complete list of his competitive experience is listed below. He became interested in R/C when he saw his first R/C pylon race. It had the same excitement and competitive thrill of control-line combat. Over the years he has enjoyed many aspects of the R/C hobby including R/C Pattern, Sail Planes and various sporting events.
In 1973 his father, Al Prather, and Terry started Prather Products, Inc. as a full time business. He designed and introduced the Prather "Little Toni" Formula I Pylon Racer to market. It featured a light weight epoxy fiberglass fuselage. The Little Toni set several National records as well as winning many National titles including the AMA Nationals. From 1973 to 1978 they expanded the airplane Kit line and added several new accessories. The primary emphasis was still Pylon Racing. Terry traveled to all the district races and competed in Regional and National Championships. During this time he started reworking the Super Tigre X-40 Racing engines. They were called "Terry Tigers" and he reworked over 2,000 engines over the next several years. The engines He reworked dominated Formula-I Pylon Racing for several years.
In 1978 they decided that the airplane kit market was too crowded and would be increasingly so they decided to switch to R/C boats. They introduced a Deep Vee to market which featured a light weight epoxy-fiberglass hull similar to what was used on our airplane fuselages.
Between 1978 and 1992 They expanded the boat line concentrating on performance glow kits in the various boating classes (Deep Vee, Outboard Tunnel, In and Outboard Hydro). They added boating accessories to the line of products. In 1987 they added boat props to their line since Octura Models had difficulty keeping up on deliveries of boat propellers. They elected to drop the airplane kit line as sales diminished.
1959 to 1969 - Competed in control-line combat and control-line rat racing. He won many local and regional contests including the 1967 AMA Nationals in Sr. Control-line Combat. He designed "The Winder" control-line combat airplane which was kitted by Sterling Models.
1969 to 1970 - Competed in R/C Pattern to get experience flying R/C in order to attain the main goal of competing in R/C Pylon.
1970 to 1976 - Competed in Formula I Pylon, Quarter Midget Pylon, Formula II Pylon, FAI Pylon and Unlimited Pylon. He won many local races, including several NMPRA Point Championships, NMPRA Race of Champions and AMA National wins in Formula I and Quarter Midget.
Side note from Darrol Cady:

I met Terry the first time at an NMPRA Championship Race in Texas. I think it was in 1985 or '86. Terry was " THE" man there. I was a "Nobody" from Billings, Montana. I had an airplane that was not one of his Toni's and it was powered by an OS… I talked to him at a restaurant and asked him a question. He did not know anything about the OS, but he took me to another racer that did know the OS and I did get help. This was a good experience for me, as it taught me to share the information with other racers…Keeping secrets only hurts the hobby.
I have heard that in the early days of Formula one in California, the technology at the time was very guarded. Terry was one of the first to figure out the black art of carving propellers when he was new on the scene. When the favored group wanted to know what he was doing, instead of sharing with them, he shared with everyone else… That is the Terry that I know. Maybe it was for business, but no matter, it was good for the hobby.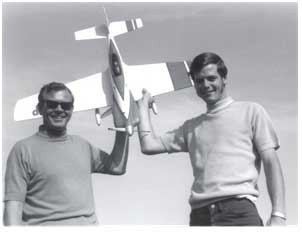 Early 70's photo of Al and Terry holding Little Toni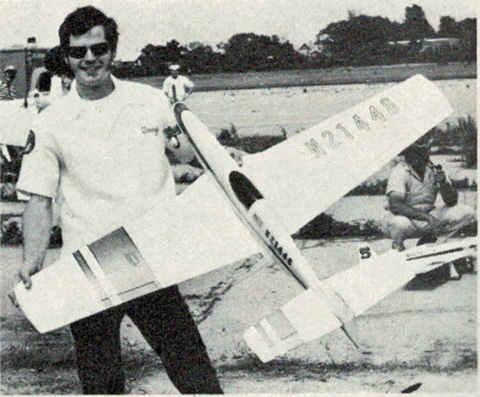 Terry Prather With Miss B.S. FAI Racer At 1972 NATS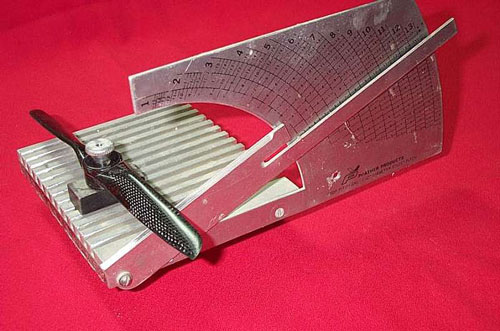 Prather Products Pitch Gauge