Jerry Nelson
It all started in 1964 when Jerry saw the Goodyear races in Reno and got the idea that we could be racing that way in R/C, worldwide also. Up until that time, no one else had come up with the idea of racing scale-like models four at a time.
What a concept! With the help of Joe Martin, Bud Crane and Ed Shipe, Jerry put together the ground work for what became Formula 1 and the NMPRA. By 1965 Jerry had designed several racers and had plans available which made it possible for interested pilots to get into racing more easily. Also, in 1965 Jerry put on an exhibition race at the Willow Grove AMA Nationals. The visibility brought by the beautiful racers racing four at a time caught the eye of the Nation. NMPRA was off the ground but there was a lot of work to do.
Early in 1966 it became obvious that the NMPRA was going to have to get organized in order to continue to develop and grow. An organizational meeting was held and several officers were chosen to get things started. Jerry was chosen as the corresponding secretary. With Jerry in this role we were able to take advantage of the status and respect that Jerry had within the modeling world to get our ideas accepted. In 1966 Jerry was the director for the unofficial 1966 Glenview Naval Air Station AMA Nationals. Jerry found all of the help to run the event outside of the regular NATS workers.
All during the year of 1966 NMPRA officers were very busy working with the AMA contest board in the effort to get our event and rules accepted as an "official" event. Jerry put a lot of behind the scenes effort into making sure acceptance would occur. By the end of 1966 the AMA did accept our rules and also accepted the NMPRA as its SIG. This allowed us to have a say in the rules and to have "official" rule book racing at every NATS since.
In 1967 Jerry was the R/C director for the Los Alamitos AMA Nationals. Jerry had Ed Shipe, another Hall of Famer, as the event director, but Jerry was very instrumental in getting our event exposure that no other part of the Nationals received. You might remember that ABC Wide World of Sports televised the final race of the meet.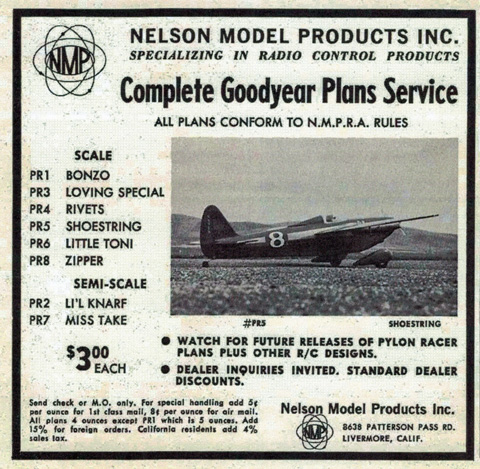 Jerry Nelson's Ad In The June 1965 Issue Of Radio Control Modeler Magazine