Dave Latsha has been racing since the late 1960's. Aside from his success as a very competitive pylon racer Dave has made numerous contributions to the sport of pylon racing. In the early 1960's when a local group of RC guys needed a flying field, Dave found an area where guys could fly then took his heavy equipment to that area and built a flying site for everyone to use. This field became one of the first fields in the state of Pennsylvania to hold a pylon contest; Dave was the CD of course. After a few years when airplanes started to progress in speed and size, they out grew the original flying field. Dave and the club then struck a deal with the city of Harrisburg and obtained a long term lease for the club to use a parcel of land. Again, Dave brought out his heavy equipment and built the new field that is still used today. Spanning over four decades, Dave has hosted numerous first class pylon races at the Harrisburg field. Dave's main concern was that everyone had a good time at his events. Dave also helped promote pylon racing in other areas as well. He helped promote large races at Bowie, MD, Toledo, OH and Rough River, KY. These are just a few of the many examples of Dave's generosity and devotion to the sport of pylon racing.
Dave Latsha never turned anyone away that needed help with their racing program. On numerous occasions Dave would stop what he was doing at the moment to go out to the field and help a fellow racer test his new plane. Sometimes he would bring his motorhome which was like a rolling hobby shop to make sure that everything was on hand to help his fellow racer achieve success with that first flight. There are many of us that race today that owe a big thanks to Dave Latsha for his dedication and the patience he has displayed for anyone that needed a helping hand over the last forty plus years with their racing program.
Dave Latsha also accomplished a few things through his pylon racing career as well. He is an AMA Nationals Champion. He has won the prestigious Rough River QM15 Championship Race along with the Doolittle Dash at Rough River. Aside from these notable contests Dave has won numerous other events along his pylon racing career.
Dave designed and engineered the famed "Rivets" QM15 pylon racer kit. His design was a huge success. The kit was first class with detailed instructions that even a beginner would understand. His "Rivets" held the National Record in the mid 1970's. His record setting airplane still hangs in his den today.
Pylon racing could surely use a few more gentlemen like my good friend Mr. Latsha. I think Dave deserves a place in the NMPRA Hall of Fame
Sincerely,
Lee von Der Hey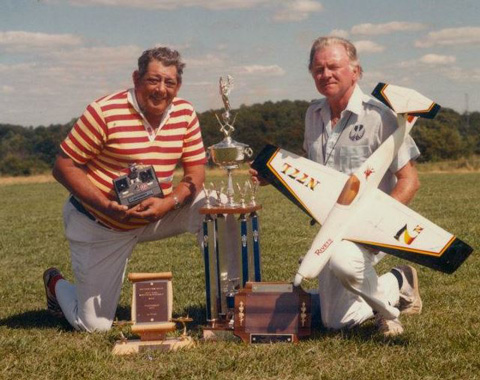 Dave With His QM15 Rivets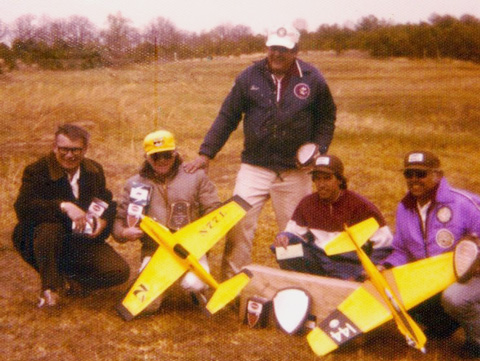 Dave With Another Good Finish