K & B Manufacturing

K & B was the biggest reason I and many others got involved in racing. K & B was instrumental in helping racing grow and flourish so well in the 70s and beyond. They were the racer's best friend by producing products specific for racers. Some products were obvious, like the engines, fuel, and glow plugs. One product that they brought to market was K & B Superpoxy. It was packaged in small enough quantities that we racers could afford to use them. They were absolutely fuel-proof to 50% and higher nitro fuel, while lacquers were not. That paint made great painters out of us racers, and since at that time, scale judging of aircraft, including finish, was a big part in determining take-off position; in those days there was a one-second interval between each launch position.
One of K & B's biggest contributions was in engine design. In the early 70s they brought to the market the first schnuerle-ported engine. It was a giant leap forward in power. It was greatly responsible for the fast growth in racing numbers during that time. K & B continued to develop engines (from the side port, then on to the rear exhaust engines), that were stock out-of-the-box and ready to race. Knowing K & B as I did then, I know they did not do this with profit as the prime objective. The racing venture broke even at best, and K & B maintained their support of all racers, especially the "little guy" racer. In the 70s and 80s they even provided fuel to the NATS events.
When I started racing in 1972, the fast time was right at 1:30. With K & B's introduction of the first schnuerle-port engine, it dropped by almost seven seconds to a 1:23.8 by the last race of the season. That, in my opinion, was the impetus to put Formula 1 racing on its growth trajectory and solidified racing as the premier event in the hobby. If you would ask anyone who raced at that time what they thought was a major positive influence on racing, I am confident it would be K & B.
It is for these reasons (and I am sure there are many more), that I proudly nominate K & B to the NMPRA Hall of Fame.
Kent Nogy, AMA 3252, NMPRA 12c
Further information on K & B can be found in the biography of AMA Hall of Fame member John Brodbeck Sr. at the following link:
AMA Hall of Fame inductee John Brodbeck Sr.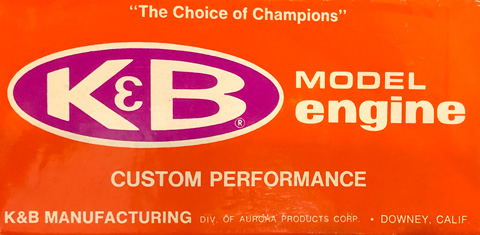 K & B The Choice of Champions