MIKE HELSEL was born at the end of the runway, US Naval Air Station, San Diego, California, November 24, 1944. By the age of 5, Mike had built his first model airplane with the guiding hands of his Dad, Lee Helsel, another long life modeler. By the age of 8 he flew his first RC airplane while growing up in Sacramento, California . Mike graduated from California Polytechnic State University, (Cal Poly), San Luis Obispo, California in 1967, married his wife, Sandy, and during leisure time, continued his love of model flying at Cal Poly's small airport.
Mike joined DuPont in 1967 and Sandy and he moved to York, PA for nine years where they had two daughters Jennifer and Michele. Mike became very active in a local model airplane club primarily in pattern and fun fly contests. His interest in competition took him into New England many weekends during the flying season where both R/C pattern and racing were more prevalent. His daughters remember playing with their Barbie's on the grass as Daddy flew Formula 1 pylon! Here Mike met Pete Reed who taught him the ins and outs of competitive racing for both FAI and Formula One competition. Under Pete's watchful eye, Mike became an accomplished competitor and was known as "The California Kid."
In 1970 Mike's first big race for the money was 2 nd place in Formula One at the "Mint" Las Vegas Race, with Pete Reed as his caller. To generate R/C model flying, Mike led his R/C club in multiple aerobatic performance demos at the Pennsylvania State Fair in the early '70s. In 1976 Mike flew in the World Championship FAI Pylon race in Lakehurst, NJ where he tied for second place, behind the multiple World Champs of the day, Telford & Violett.
A transfer with Du Pont in 1976 moved Mike and family to Pleasanton, CA. for the next two years. Model airplane competition was making a big impact in both northern and southern CA. With family living in both areas, it was easy to follow the contest route which included contests in the bay area, Bakersfield and San Luis Obispo, a treat for the whole family. Sandy had her first experience as a pole judge in Bakersfield; her first and last, as a plane collided with said pole putting her judging and timing career on hold until cages were introduced some years later at Sepulveda Basin.
After two years, Mike took a new job with PDI, a division of Time Life, in Connecticut, moving the family to a new home in Danbury. Model airplane racing in New England was in full swing and Mike joined in with a passion. More R/C clubs and more races were within driving distance and more and more trophies filling the shelves. One of Mike's greatest accomplishments was traveling to the Canadian Nat's in 1977 with the Helsel and Reed families in tow and winning first place in both Q500 and Formula One events!
In 1980 Mike was transferred to Minneapolis, MN to work for Pako Corporation, finding a great life in water sports, as well as airplane racing. Finding no Formula 1 racing in the area he competed in Q500 and QM15. He continued to pursue Formula 1 by traveling to major races from coast to coast including the Canadian NATS, AMA NATS and the NMPRA Championship races. During this time Mike also tried his hand at giant scale and was able to win locally and qualified for the Scale Masters tournament in 1984.
In 1986 the Helsel family again moved, this time back to the west coast where the Formula One and Quickie 500 prevailed and was heavily sponsored. Residing in Diamond Bar, CA Mike entered into the computer industry and with his new knowledge was able to develop some of the early computer generated race matrix for local and regional racing. Mike took on many leadership roles from race coordinator and CD to NMPRA President in 1991 and 1992. With the help of Ron Schorr, and other leaders and sponsors in the area, there were not only trophies to be won, but great prizes for such races as Sepulveda Basin, Whittier Narrows, Madera Air Races, to name a few. In 1992 Mike flew the fastest Unlimited time ever recorded at Madera Air Races with a beautiful Sea Fury, part of the Krohn/Miller Racing Team Unfortunately, the massive wing span folded in midair under great g-forces creating one of the most spectacular crashes ever seen at Madera (made the cover of R/C Modeler, France!) Not defeated, Mike came back to take second place in the Gold race for the team the following year.
As careers will, Mike again transferred to Texas, first to Austin, (Round Rock) area and after 11 years working for Dell; on to the Houston area taking a position with BP. During the last 14 years in Texas he teamed up with Dub Jett and John Shannon, where his talents and perseverance resulted in taking several first places in Formula One, Q-40 and Quickie 500 at a local and national level including first places at the AMA NATS in 2000 and 2001 in Q40 and 2005 in Q500. Fast Time is his greatest thrill and he has taken more than his share. As Formula One Racing came to an end, Mike did not want to see it go without heading up the "LAST BLAST" as it was called, at the final race for Formula One during the 1997 NMPRA Nationals. During his life in Round Rock, Mike was always keenly aware that young flyers should be aware of this wonderful world of R/C flying, so during this time Mike introduced the Boy Scout regional groups to this sport through multiple demonstrations and discussions to encourage a new generation of R/C enthusiasts. As he has done in other states where he has lived, Mike is always available to take his "one-man pep-rally" to area groups and organizations just for the asking! His enthusiasm, competitive spirit and devotion to the hobby have been rewarded by his place on Team JR.
Mike was a member of the AMA Pylon Racing Contest Board for District VIII. Mike presently holds the office of National Contest Coordinator for NMPRA.

Submitted by: Sandy Helsel
2-19-2010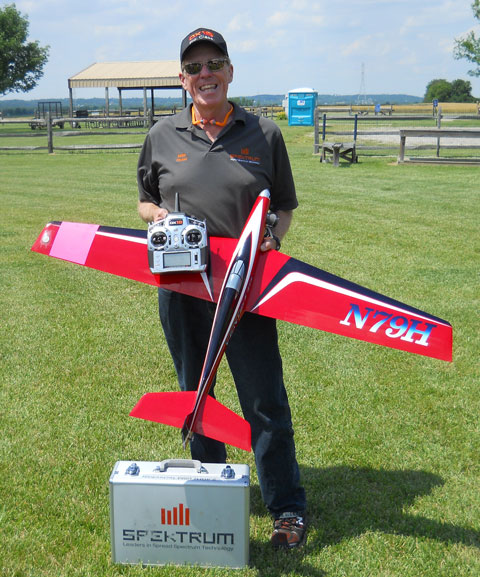 Mike Helsel At The Cincinnati Moonshot Race