By: David Doyle
I am deeply honored that you have elected me into the NMPRA Hall of Fame.
My love of airplanes started at the very early age of 2 when a model bomber became my favorite toy.
My two partners, Gloria and Diana, have supported and encouraged me without reservation throughout my racing days. Special thanks and recognition go to Peter Reed, Mike Masi, Lloyd Burnham, and the many other fellow competitors that gave of their time and knowledge that helped me succeed.
I consider among my greatest achievements in pylon racing, the winning of my first Kachina Doll at the Phoenix race in 1997 with Gloria and my NEPRO fast time of the year award in Formula 1 from 1992. The 100+ trophies that adorn my attic are all a testament to the ability of my callers Diana and Gloria.
Be assured that my work in support of the sport was not out of need for recognition, but rather as a way to give back something to the sport hobby that we love.
At a race in Farmington, Conn., the lap counters were lined up on the field in folding chairs. Much to my dismay, I crashed directly in front of the lap counters that day. Also on that day, I decided to design and build safety cages for the event judges at all three positions. The first rendition was made up of sturdy fence sections that were pinned together at the field. Don McStay offered his company truck to transport the apparatus to and from each race site. After a few years, it became evident that others would have to help transport the equipment. It was then that I purchased a big trailer and enlisted the help of Marty Berr and others to weld the parts into a series of box cages that would fit inside each other and on the trailer. Mr. Lloyd Burnham took on the task of transporting the cages to and from each race site including the National race site in Muncie Indiana
Working with Paul Page in the early years to perfect his computer program for setting up a matrix and scoring was particularly rewarding. We contacted each other weekly and often daily in working out difficulties. He would write programing and I would try to mess it up. I was quite good at this.
Later working with Paul Herman, we did the same. Paul Herman expanded his computer work to include FAI scoring. While he was writing the program, the FAI competition date was closing in fast. I worked with Mr. Carl Bell of The Villages to try writing a simple scoring program. We were having difficulty with Carl's when Paul sent in his version. It turned out to be a masterpiece and the contest went off without a hitch.
Whether it be acting as Secretary Treasure of NEPRO (9years) or for NMPRA (15 years) and at the same time providing computer matrix and scoring help for the NATS, local races, or the world championships for FAI, I promise you that I loved every minute of it. The work was a break from running my Consulting Mechanical Engineering Business and kept me sane. It was during this time that my wife/racing partner Diana passed away. Several years passed and I fell in love with my longtime friend Gloria. Much to my surprise and delight she became my new racing partner and most of all, my new life partner.
I love to compete and pylon racing was a marvelous fit for me.
Along with the competition, we have had the pleasure of meeting and becoming friends with a variety of characters in the sport (hello Joe Tropea, Henry Bartle, and Ray Brown.)
I urge every one of you to continue racing pylons as long as you can and help where you can.
I have loved airplanes since early childhood. Building and flying control line planes at the age of 12 and competing at age 13, I continued to be involved with planes.
Finally, in the summer of 1972 at age 31 with my best fishing friend Ron Tabele, we ventured into the world of radio control airplanes. We found out about pylon racing and went to see one at the field in Farmington, Conn. Wow, and with the help from Peter Reed we purchased and started to build our first Scat Cat Q-500 planes powered by K&B 40 motors.
It was taking too long to finish the Scat Cats, so we went to another race in Hadley, Massachusetts where we were awed at the formula one event going on. Before we left the race that day, we ordered OS40 engines and Little Tony planes from Peter Reed (Who knew that I would become his caller and special friend.)
As soon as the Scat Cats were done, we went back to Ellington for our first Q-500 race in standard class. Ron crashed in round 4 or 5 and I went on to win 3rd place. Ron and I were flying partners for a time, but he soon returned to bass fishing, so I talked my wife Diana into trying to be a caller. The rest is in fact history.
Thank you again for this lifetime honor.
David Doyle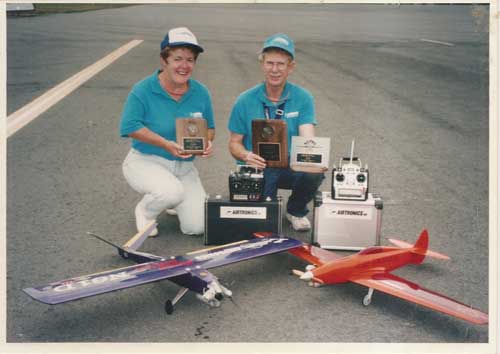 Gloria & David At The Races