Darrol Cady, Gentleman R/C Pilot

Radio Control became a serious focus in Darrol's life in 1969 in Billings, MT when he competed in "Pattern" as well as sport racing. He attended the first NMPRA Championship held at the Sepulveda Basin in the Los Angeles area in 1974 and the spark was lit.
In 1976, Darrol met and roomed with Steve Helms for the Tournament of Champions. Steve easily convinced Darrol to concentrate on his racing skills instead of pattern due to the fact that objective judging made the competitions fair and literally any pilot could win in spite of his "reputation" or "name" simply by flying faster and better. Darrol had experienced the "name pilots" winning in pattern with lesser performances than other competitors so he quickly adopted Steve's suggestion and as they say: "The Rest is History".
Darrol and his wife, Rhonda, moved from Billings to Vancouver, WA in 1988. By this time, Darrol was a major factor in NMPRA competition and to give back, became District VP and Newsletter Editor for the organization.
Rhonda and Darrol made a daunting team, with Darrol piloting and Rhonda calling…racing nearly every month. In 1999 "Team Cady" came into their own with wins in almost every competition in the nation. The wins piled up including District 2, First in Quickie and Q40. Nationally, they won first place in Quickie, Q40 and Formula One. They won first in Formula One at the Nationals. The Championship race was in Mexico and they won there as well. The JR Gold Cup series consisted of premiere races all over the USA. Team Cady won the series in 1999.
They have attended every one of the AMA Nationals in Muncie with the exception of 2013.
Darrol continued working as NMPRA newsletter editor until 2000 when he was elected President of the NMPRA for the next two years.
Darrol and Rhonda retired in 2000. Bought a motorhome with the proceeds from the sale of their Vancouver home and hit the road as full-time RV'rs. They travelled the country attending and competing in race after race. Darrol claims to have raced on almost every premiere race course in the country.
Over the past couple of years, Darrol has suffered from progressively worse degenerative eyesight which has restricted his participation in Q40's. Nevertheless he is still deeply committed to the racing community and still participates as his health allows.
In spite of Darrol's celebrity, he's committed to furthering the R/C hobby and of course, racing in particular. According to fellow pilot and friend, Pete Bergstrom, "Darrol gives back way more than he takes from this hobby. He is the first to offer knowledge, assistance or even parts of his own airplanes to help a fellow competitor".
Rhonda has said it best: "…in the days Darrol was most competitive in racing, it would drive me nuts that just when we were winning, he'd up and give our prop or engine to someone having difficulty going fast or trouble with a set-up. I would ask…can't we have any speed secrets? And he'd reply: That's how WE play the game, now go get another engine. I can't count the times we've gone to the line without a plug, fuel, etc. because he'd been setting up someone's motor or transmitter while in the middle of pitting his own plane."
Today, Darrol continues to serve the racing community by providing easy access to the specialty items racers need to participate and enjoy their hobby via DarrolCady.com.
Darrol is an avid believer in the general goodness of all people and is often the first to grant a person or an issue the benefit of doubt when it reflects on the NMPRA and its' members.
Thank you Darrol…for your service and friendship to the radio control community.

Submitted by Ford Rollo, fellow pilot and friend.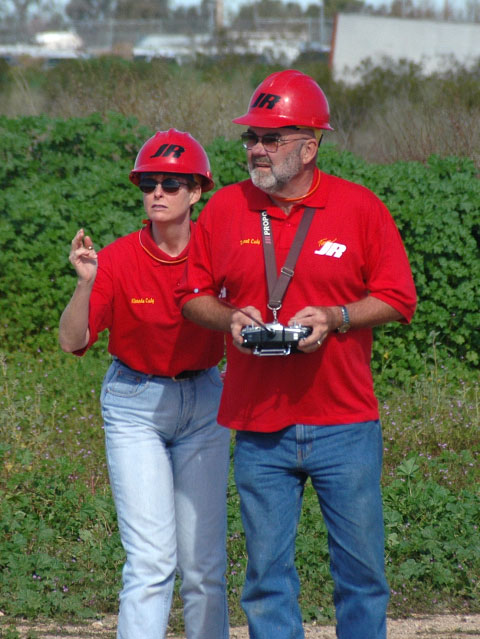 Darrol & Rhonda At The Races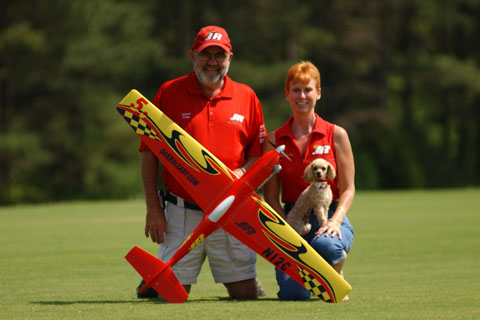 Darrol & Rhonda At Joe Nall