Lloyd Burnham was born in 1948 in South Windsor, CT. He is the owner of Commercial Color Studios, Inc. since 1973, specializing in commercial and industrial photography. He is married to wife Carol with two daughters and two grand daughters.
Lloyd is an avid race car fan and has worked on modifieds, Indy cars, sprints, super modifieds and is currently a crew chief on USAC midget race cars. In the winter time he enjoys snowmobiling throughout New England along with airplane and race car building.
He is a past two term NMPRA president during transitional years from Formula I to QM40 racing. By recognizing Q500 pilots into NMPRA, he was able to double NMPRA membership in one year.
Lloyd has been president of NEPRO for 15 years and helped build it to largest and strongest ongoing racing organization in the country.
As of 2014, Lloyd is a member of the AMA Pylon Racing Contest Board and Safety Committee.
Lloyd started racing in 1975 with his mentors' Bob Wallace and Pete Reed. He has eight 424 NEPRO championships along with three Formula I, three 426 and four 428 championships. He won the 1999 AMA NATS and has multiple top three NMPRA national points finishes in Formula I, Q500 and QM40.
Lloyd is proud and honored to be part of the Horizon Hobby-JR Team since 1993.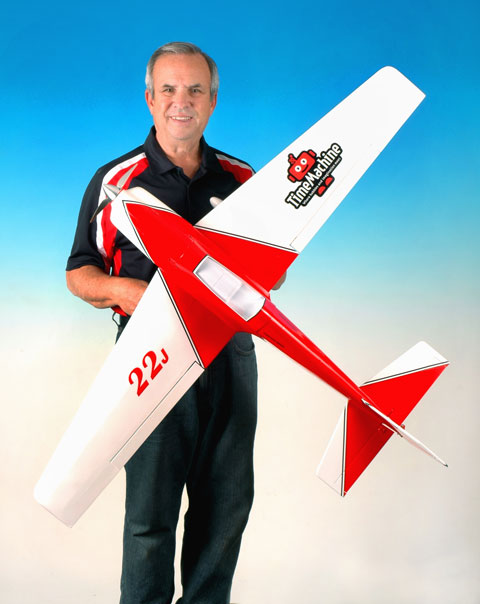 Lloyd With A New EF1 Racer