Linda Brogdon was born in Sylacauga, AL and grew up in Nashville, TN. She earned her degree at Women's College UNC. She also earned her Masters Degree in Education at Georgia State College. After graduation from UNC, she moved to Atlanta GA to accept a teaching position with the Atlanta, GA school system. Linda is now retired after 37 plus years with the Cobb County Georgia school system. She is married to Bob Brogdon and has one daughter, Lori, and two grandchildren, Stephen and Carolyn.
Linda's first introduction to model airplanes came as a surprise to her. Approximately one year after she and Bob were married, she and Bob were riding around on a Sunday afternoon when Bob stopped at a local control line flying site. Linda asked "what is this and why are we stopping?" Bob said that the people were flying model airplanes and that he used to fly them with his dad. Not long after that, and after a few visits to the local radio control flying site, Bob came home with a kit for a radio controlled airplane.
As Bob progressed with the models and began flying pylon racing airplanes, Linda's interest in the hobby increased; she has never expressed a desire to fly the models, but she has given her full support to Bob and the pylon racing community. She has become a fixture at the RC pylon races in the Southeast and also around the country. She is always ready with a smile and a pleasant greeting to all.
Over the years Linda has given her support by helping to manage pylon racing events. She has been the registration official, the score keeper, the race announcer, and even the creator of the matrix. Sometimes all of those tasks at the same contest. Linda would set the matrix for the racing by hand; this was before we had a computer generated matrix system. She still helps, but it is now usually with the food preparation and serving at the events. She is always willing to help in anyway she can. She has even been seen in the laundromat washing Bob's flying clothes so he can have his "lucky shirt" for the next day's competition.
More recently, and since 2005, Linda has been the editor of the NMPRA newsletter. She spends many hours with the newsletter making sure it will be as good and as correct as possible. It is a job she takes seriously; just ask the people that are asked to contribute articles each issue; she kindly encourages them to get the inputs in on time. Linda doesn't like to be late with anything where she has responsibility.
Linda can still be found at the racing events; she enjoys the travel, reading books while sitting under the tent, and talking to the racers and the other wives. She is always willing to carry on a conversation, but don't interrupt her when Bob is up for a heat. She always has a place on the sideline where she can see and watch every lap; it's almost as if she were guiding the airplane. Watch her sometime and, after the heat the heat is complete and Bob's airplane is safely on the ground, ask to see hands. Most likely, you will be able to see the fingernail imprints in the palms of her hands. She is into the racing!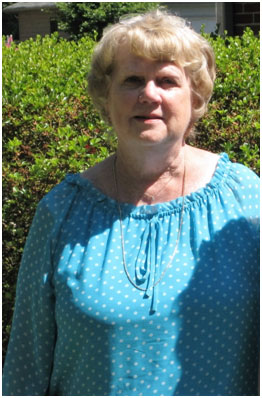 Linda Brogdon