Bob Brogdon was born in 1943 in Chattanooga, TN, but grew up in Georgia in the greater Atlanta area. He is retired from Lockheed-Martin after over 40 years of service. He is married to his wife Linda; they have one daughter, Lori, and two grandchildren, Stephen and Carolyn.
Bob is a three-term NMPRA president and served as Secretary-Treasurer from 2001 through 2005. In addition to his duties as Secretary-Treasurer during that period, he also functioned as acting president during two of those years. Bob also served as NMPRA Distric VP and SEMPRA president in the 1970s. Bob is currently on the AMA Pylon Racing Contest Board, a position he has held since 2007.
Bob credits his dad, Al Brogdon, an accomplished modeler in his own right, for guiding him into model airplanes when Bob was about nine years old. After he learned to fly control-line models, Bob and his dad competed in contests all over the Southeast with Bob flying and his dad supporting and pitting. He flew speed, combat, rat race, and stunt.
Other activities (Georgia Tech, work, and the opposite sex) interrupted his modeling for several years. He then married Linda in 1968 and settled into work at Lockheed. In 1969 at a local flying site, he saw people practice-flying Formula-1 airplanes and decided that he wanted to try it.
With D.C. May and Harold Coleson as mentors, Bob learned to fly RC and started to fly Formula-1 airplanes. Bob says that his first decent landing of an RC airplane was with a Formula-1. He then flew in as many contests in the Southeast as he could, sometimes finishing airplanes the night before the event.
Bob attended his first pylon NATS in 1972 and has attended most NATS since then. The NATS has become a "family affair" with Linda's support and grandson Stephen working as pit boss/fuel station official for several years and granddaughter Carolyn announcing the heats for the last two years.
Some of his proudest moments in modeling are twice winning the control-line Captain Eddie Rickenbacker trophy, winning Bakersfield (the premier Formula-1 event back in the day), winning the Reno F-1 NATS, and setting a Formula-1 record in 1979.
Bob still competes, but now it is more for being with the other people in the hobby than anything. He still enjoys the competition, but appreciates even more the camaraderie in the racing world.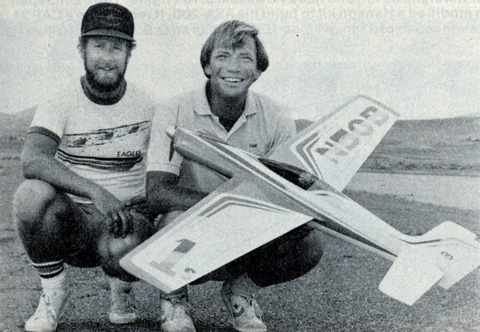 Bob And Caller Bruce Richmond - 1st Place 1984 Reno NATS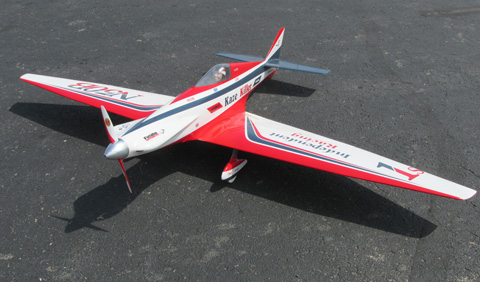 Bob's Kaze Killer Formula 1 At 2015 NATS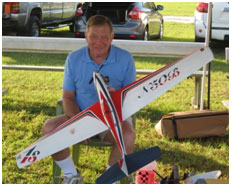 Bob With One Of His Q40 Models